Finding the Right Commercial Construction Company in Houston
When you run a business, you know how important it is to know that you have others you can rely on to help your business run as smoothly as possible. Whether that means having reliable suppliers and vendors or it means having a construction company that can build a new building for you, make repairs to your building, or help you take a project from vision to completion, the security that comes with having excellent help on your side can't be overstated.
If you're a business owner in Houston, or you're responsible for getting a construction project completed for your company, you have many options available to you. However, there are few construction companies that offer as many services as RJT Construction does, and there is basically no one else who can match our level of expertise and craftsmanship. For more than a decade, RJT Construction has offered our services to entities of all kinds and sizes.
We've done work for the City of Houston, the Dallas Independent School District, Amazon, FedEx, U-Haul, and many others. Each of those projects was unique, and each of those projects were brought to life thanks to an efficient and effective collaboration between our clients and our in-house team of general contractors and
craftspeople.
To learn more about the ways in which RJT Construction can assist you with your upcoming build, review the rest of this page, or reach out to us today. We look forward to speaking with you.
RJT Construction is a family owned and operated construction company that began in 2008. In the years since then, we have worked on hundreds of different construction projects around Houston in collaboration with many developers, owners, and corporations. Our company has thrived by adhering to three principles: always being client-centric, hiring the best people for our team, and adhering to our 360° management system.
By treating our clients as though they were members of the RJT Construction team, we are able to better understand their needs and to always keep the focus on their vision for the project. By walking in your shoes, we're reminding ourselves again and again to respect your time, money, and requirements.
The Best General Contractors and Laborers
There is an incredible amount of talent in the commercial construction industry in Houston. Until RJT Construction started, there was not an efficient and effective way to hire all of that talent. We realized that the projects that were overseen and completed by a single group were usually finished more quickly and at a lower cost than the projects where there were many different contractors and subcontractors trying to coordinate the work. So instead of trying to walk that tightrope, we hired all of the contractors who met our high standards.
By managing the schedule for a construction project using our 360° system, we are able to most efficiently and effectively finish your project. This system also allows us to stretch every dollar and every material resource as far as possible. Keeping your build on time and under budget while still providing the highest quality work is the basis of this system.
OUR CONSTRUCTION SERVICES
Commercial construction is made up of many different parts. In order to take a project from concept to completion, it is necessary to work with a number of different companies or to find a company with the knowledge, experience, skills, and workforce to be able to handle all of these pieces. RJT Construction in Houston is a full-service commercial construction company that can handle all of the steps that it takes to complete your building or commercial project. To learn more about all of the services we offer, continue reading this page.
Contact us today to learn more about how our unique system of management and in-house contractors can benefit your next job.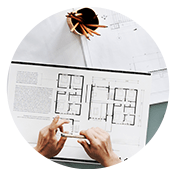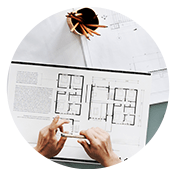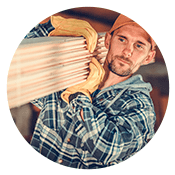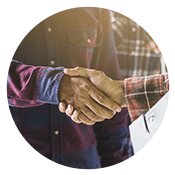 Project Management and Supervision
The success of any commercial construction project depends on proper management and supervision. We will work to ensure that the budget is followed, that the work is completed in a timely manner, and that any issues are taken care of fast. Contact us today to learn more about how we manage and supervise projects.
Architectural Conception and Design
If you're in the planning stages of a new building, or you've got plans that you would like someone else to take a look at, get in touch with us. We've worked with a number of excellent architectural firms since we started RJT Construction in 2008. We're happy to recommend the firms that we have preexisting relationships with, and we're happy to work with firms we haven't teamed up with yet, too.
No matter what stage of construction you're in, our team of in-house contractors can step in to get the work done correctly, on time, and under budget. Our teams are extremely skilled craftspeople who will treat the project as if it were their own, and they have already passed our extensive vetting process in order to even be considered for a spot at our construction company. By keeping our contractors on as employees rather than hiring them when they have time in their schedules, we are able to guarantee a higher quality of work, lower prices, and improved transparency.
Scheduling and Communication
By taking advantage of the latest technology, our team has been able to eliminate many of the problems that are traditionally associated with communication and project management. We make sure that everyone who needs to be involved in decision-making is contacted quickly in order to keep the schedule on track and to maximize the project's resources.
Erecting buildings is one of RJT Construction's specialties. Our team has years of experience erecting different kinds of buildings, including prefabricated buildings, tilt wall buildings, and custom builds. We can also handle repairs and upgrades, so contact us today if you have any questions or if you're ready to get us involved.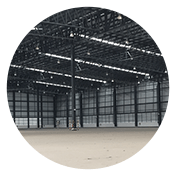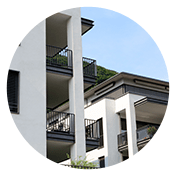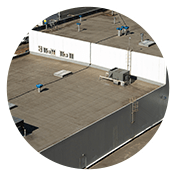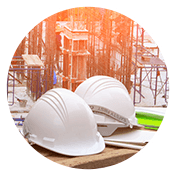 Prefabricated buildings are excellent options for many different kinds of businesses. If you want to have a prefab building erected to house your business, contact RJT Construction. We can take care of simple single-story warehouses as well as multi-story buildings with customized features.
Our experience with concrete translates directly to tilt wall erection. Instead of framing a building in steel or wood, tilt wall buildings use concrete slabs to form a solid framework. Tilt wall buildings are very cost-effective options for many different commercial building needs.
While metal buildings are built to last, that doesn't mean that they're impervious to damage. If your roof needs to be replaced or needs a new coating, our team has the skills and experience to handle that. We also have the ability to retrofit a new kind of metal roof over your existing metal roof, patch or coat rusted areas, and replace hardware to ensure that your roof will last for many more years. We also provide interior maintenance and repair work, too, so get in touch with us to get a quote.
Contact us today to get a quote on your erecting needs. Our teams are able to handle everything from non-prefabricated steel structures to wood buildings and more.
Concrete work is some of the most important work that goes into commercial construction. Our team understands the how vital concrete is to the success and safety of your building, which is why they bring all of their knowledge and skills to the job site every day. If you've been searching for a construction company who can handle concrete work, as well as preparatory site and dirt work, RJT Construction is the right choice.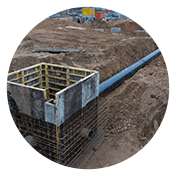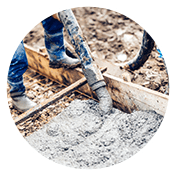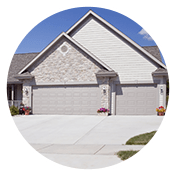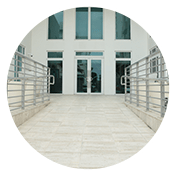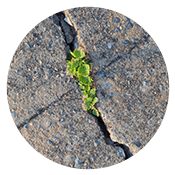 Proper site and dirt work is a must for any commercial construction project. Without ensuring that the ground is ready to handle a new building, parking lot, or other construction, all work that is completed later may be for naught. RJT Construction can provide you with all of the site work necessary to start your project off on the right foot, including:
Demolition and clearing
Excavation
Detention ponds
Soil stabilization
Building pads
RJT Construction is ready to help ensure that your building has a solid foundation on which to stand. We've poured foundations for large 20+ story buildings as well as single-story structures like warehouses. Get in touch with us today to discuss your foundation needs.
Parking Lots and Driveways
Large commercial complexes require a skilled team to handle the prep and pouring of concrete for parking lots and driveways. We're ready to be that team for your next project, whether it is a large industrial complex, a shopping center, or anything else.
Our team can take the guesswork and frustration out of trying to find a company that can handle pouring concrete for a public or a private roadway. Few companies in Houston have as much experience with sidewalks as we do. In fact, we've poured tens of thousands of square feet of walkways all over our great city. We'll take your plans for a road or a sidewalk and execute them perfectly.
If you have damaged concrete, you may not have to tear it up and have it repoured. Contact RJT Construction today to discuss what has happened to your concrete. We can have one of our concrete experts inspect it to see if it can be repaired instead of replaced. Repairs are faster, easier, less expensive, and far less disruptive than the process of installing new concrete, so call us to see if we can assist you.
The roof is one of the most important parts of any building. Without a correctly installed and maintained roof, you are putting your building, your employees, your goods, and your business at risk. Luckily, you don't have to gamble on whether or not you're going to get the right roofers to install or repair your roof when you contact RJT Construction in Houston. From flat roofs, coatings, maintenance and repairs to modified roofing systems, single-ply (TPO) roofs, and metal options, there is nothing that our insured and certified team of roofing contractors can't take care of. Call us today to discuss your roofing needs.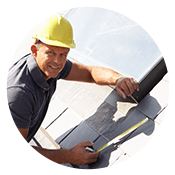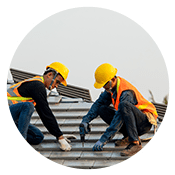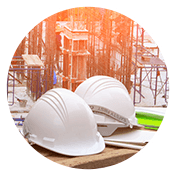 An inspection is the first step towards determining whether your roof needs repairs or if it needs to be replaced. One of our roofing contractors can perform a thorough evaluation of your roof, find any damage, and complete a report that you can send to your insurance company. If you know that your roof needs some work, an inspection will help us pinpoint what is wrong and how much work it will take to fix it.
RJT Construction's roofers can take care of all of your roof maintenance and repairs. From replacing a few shingles or swapping out sections of a metal roof to applying a new coating or performing emergency repairs, few companies have the experience that we do with commercial roofs. Contact us today to learn more.
No matter what kind of building you have, our team of skilled roofers can install or replace a roof on time and on budget. Contact us today if you have any questions about the following types of commercial roofs:
Single ply (TPO)
Metal
Torch down roofs
Flat roofs
RJT Construction also handles gutters, flashing, and any other component of a roof that will help it last longer.
We've had the absolute pleasure of working on a number of important projects over the last several years. From municipal jobs to construction projects with some of the biggest names in the world of business, we've brought the same attention to detail, skilled labor, and respect for our client's budgets to every site.
Houston Airports
Amazon
U-Haul
The City of Houston
FedEx
The Dallas Independent School District
Head over to our recent projects page to learn more about this varied group of tasks.
When quality and reliability are required unconditionally, contact RJT Construction in Houston today. We have built our business on an unwavering commitment to client-centric values, clear communication and management, and an incomparable team of craftspeople with the vision, skills, and dedication to completing every single job to the best of our abilities.