Professional Building Erection In Houston
Erecting a building takes care and attention to detail from the foundation to the roof, ensuring that the buildout is meant to last. To receive this level of service, you must find a team of erection contractors that are dedicated to providing the best customer-centric services and have experience working with a number of different types of building erections in the Houston area.
At RJT Construction, you can rest assured that you will receive the very best, no matter the size or complexity of your erection project. We are here to provide you with lasting results so that you can enjoy your building for many years to come. Get in touch with our team today to learn more!
OUR PROFESSIONAL ERECTION SERVICES
At RJT Construction in Houston, our crews have erected a wide range of buildings, including basic prefabricated steel buildings, warehouses, custom-designed structures, and tilt wall buildings. Continue reading to learn more about our services!
PREFABRICATED BUILDING ERECTION
This type of erection project includes anything from warehouses with minimal buildout to single story and multi-story structures requiring external facades, customized windows and doors, and full-interior buildouts. While prefabricated buildings help to simplify the erection process, our team of erection contractors at RJT Construction will make sure that the job gets done right.
Tilt wall erection is a cost-effective technique for building that involves erecting concrete slabs as a building's framework. RJT Construction has erection crews specializing in tilt wall construction. When you choose our team, you can rest assured that your tilt wall building will be erected on time and on budget so that you can be enjoying your new building sooner rather than later.
Whether you have a steel building project that is not prefabricated or a wood structure to build out, our erection contractors at RJT Construction in Houston would be glad to review your plans and provide you a detailed and accurate quote. With more than a decade of experience, our professional team will provide you with top-quality erection services for your custom build.
ROOF AND BUILDING REPAIRS
Sometimes your building may need some TLC. RJT Construction can perform maintenance work and repairs to your building. We can re-sheet or retrofit any type of metal roofing on any type of metal roof. We offer roof coating over rusted areas, replacement of any screws, and closures. RJT Construction will also inspect, re-screw, and re-sheet any type of metal wall panel.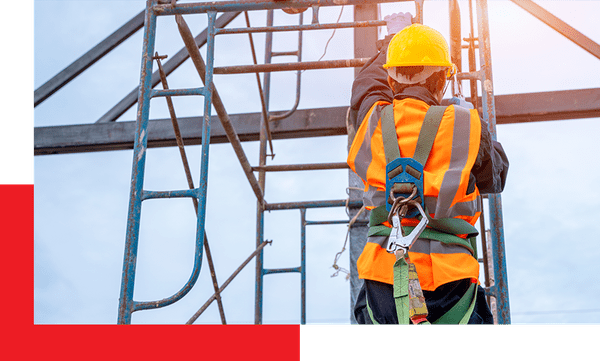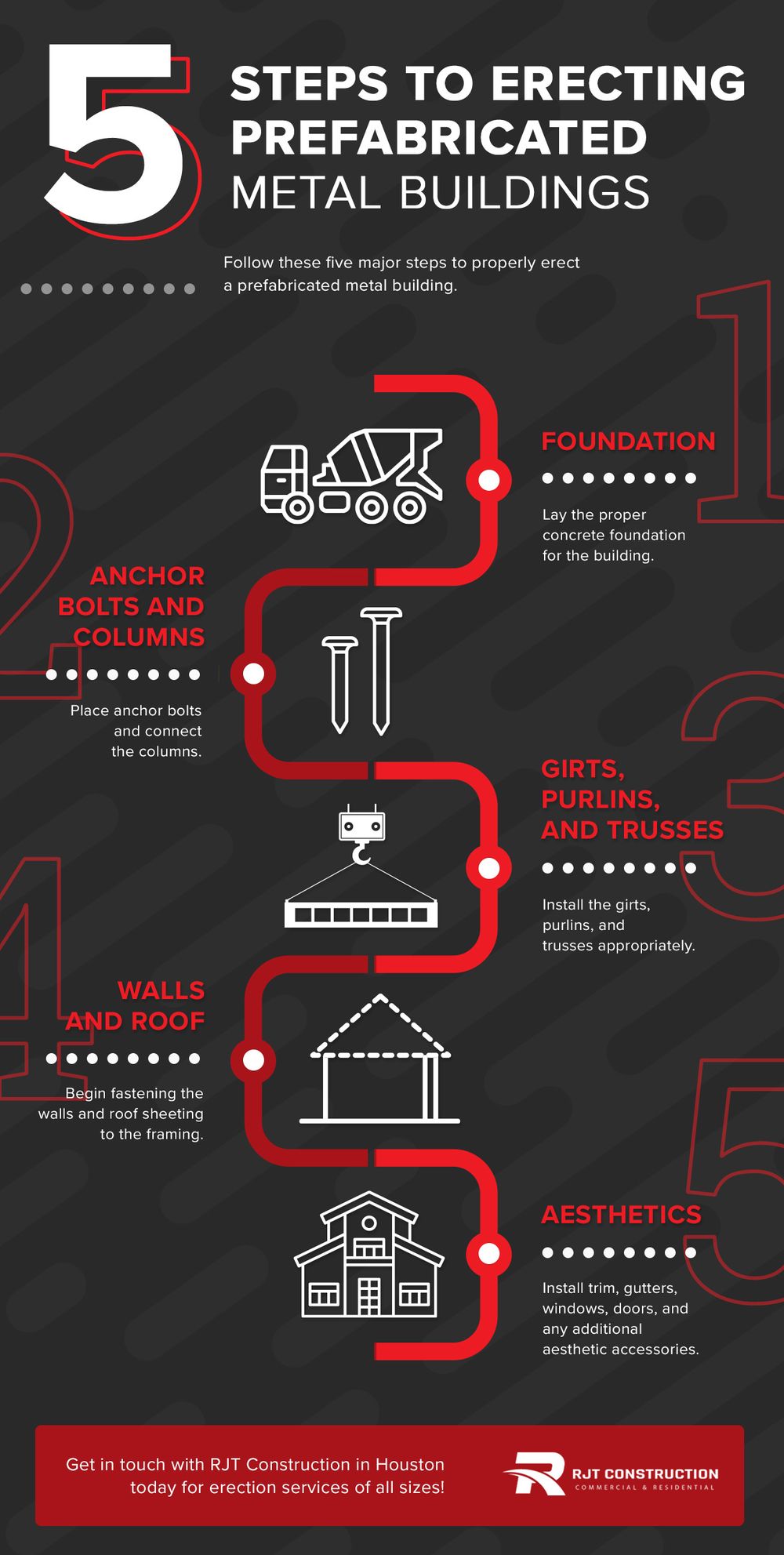 BENEFITS OF HIRING A PROFESSIONAL FOR YOUR ERECTION PROJECT
Professional erection contractors have the knowledge and experience needed to erect your commercial building on time and within budget.
Hiring a professional for your commercial erection project ensures that your building will be completed with the utmost quality and care.
Erecting your own commercial building, while possible, comes with a number of safety risks that are easily avoided when you hire a professional.
As a business owner you have a number of things requiring your time and attention. Save yourself some time by hiring an erection contractor.
Professional erection contractors like those at RJT Construction have access to the proper equipment to erect your commercial building with ease.
Combining a professional's expertise with the top-quality they provide, brings you a long-lasting commercial building that you can trust.
WHY CHOOSE RJT CONSTRUCTION?
Family-Owned and Operated
More Than 10 Years of Experience
Client-Centric Approach
360° Method of Management
FAQS ABOUT ERECTING BUILDINGS
How much does a prefabricated steel building cost?
While prefabricated steel buildings are purposely standardized to a degree, the exact cost of the building will depend on the size and complexity of your specific steel erection project. To receive a quote for your prefabricated building, simply give our erection contractors a call at RJT Construction in Houston.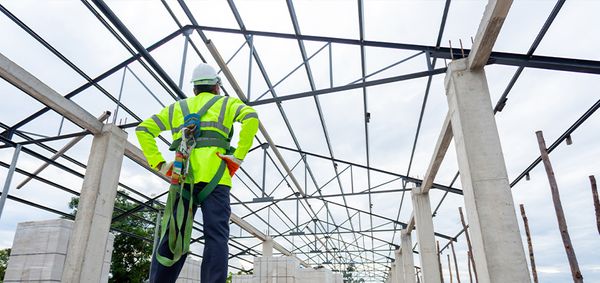 What is the difference between tilt up walls and precast walls?
There are a few major differences between tilt wall and precast concrete construction:
Creating the Panels — Precast concrete panels are created and transported to the construction site, whereas tilt wall panels are poured on-site and then lifted into place.
Size Limitations — With tilt wall panels and components poured on-site, there are fewer size limitations to them compared to precast panels that have to be transported to the construction site.
Insulation and Energy-Efficiency — Tilt wall buildings provide insulation and energy-efficient benefits as the large panels eliminate the number of joints and possible inefficiencies.
Should I choose a prefabricated building over a fabricated or custom buildout?
While prefabricated buildings are often the most affordable option, choosing that route over a fabricated or custom buildout heavily depends on your exact building plans and needs. At RJT Construction, our experienced team is here and willing to discuss more about your building erection needs to provide you with our expertise on which building type is best for your specific project.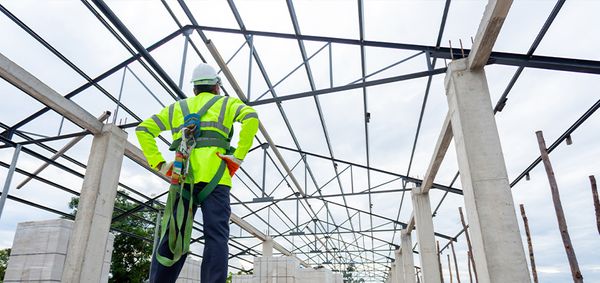 Why do metal buildings need to be repaired at times?
Dirt work makes sure that the land is cleared, compacted, level, and stable so that when the foundation of your new construction building is laid, it will be solid and built to last.
HIRING OUR ERECTION CONTRACTORS
Whether you are ready to get started on your next erection project or would like to collaborate with one of our erection contractors about a custom build, our RJT Construction team in Houston is here to assist you. We are committed to bringing our expertise, and superior craftsmanship to each and every project to provide our customers with the very best in erection services. Give us a call today to get started!