Are you thinking of remodeling your office?
Are you looking for ways to make current space to make the space more efficient and aesthetically pleasing?
Look no further than RJT Construction in Houston, TX to help with your office remodeling projects.
We're here to give you all the tips and tricks necessary to ensure your office renovation succeeds.
Whether the job is creating an open workspace with plenty of sunlight, ensuring everything has its place, or choosing the right furniture, we have years of experience completing commercial remodels.
Keep reading, and by the end of this blog post, you'll be on your way toward transforming your office renovation into something special!
WE SPECIALIZE IN OFFICE REMODELING PROJECTS
PROUDLY SERVING HOUSTON, TX AND SURROUNDING AREAS
CALL US TODAY FOR A FREE ESTIMATE
(832) 979-4175
Assess your office space and create a plan to design your office renovation.
Are you looking to spruce up your office space?
Having a great design and layout is essential for both productivity and comfort.
If you're located in the Houston, TX, area, RJT Construction can help!
Our office remodeling services experts will perform a professional assessment of your current space and create an all-encompassing project plan that'll bring the overall design of your workspace to new heights.
Make sure to reach out to RJT Construction today and see how we can help transform your current office into the organized and attractive environment it deserves!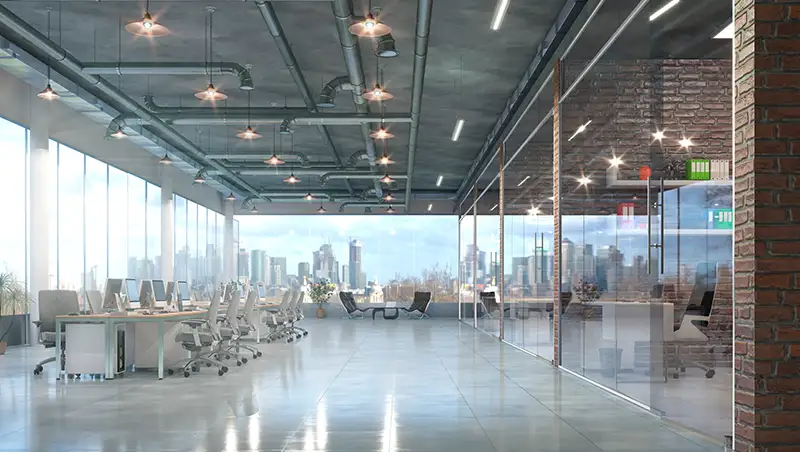 Consider the style you want to achieve for your corporate office buildouts – modern, industrial, vintage, etc.
Renovating your office space can be incredibly exciting.
After all, it's an opportunity to make your company and workplace look how you want.
Whether you're into sleek modern lines, rugged industrial flair, or a touch of vintage nostalgia – RJT Construction can help you achieve the perfect style for your office remodel.
They have years of experience and the business know-how to do the job right in Houston, TX.
So why not call them and get started on your new look today?
Choose the right colors and materials to create a more inviting atmosphere for your offices.
Remodeling your office doesn't just mean fixing the boring basics – it's about creating an inviting atmosphere for employees and guests.
At RJT Construction, we help you bring that vision to life.
With our team of experienced office renovation specialists, you can find the perfect paint scheme and materials to create a welcoming and comfortable space.
Bring your ideas to us, and we can ensure your office becomes more inviting.
Invest in ergonomic furniture that meets your needs and makes employees comfortable.
As a business owner, it's essential to ensure your office is ergonomically sound and equipped with furniture that meets the needs of everyone in your company's specific workplace.
Investing in comfortable furniture like adjustable-height desks, reclining chairs, and monitor risers will ensure a productive and safe environment for you and your employees.
RJT Construction in Houston is here to help with all your office remodeling and renovation needs so you can provide a workspace that looks great and feels comfortable for employees daily.
Consider adding plants or art pieces to make the space more interesting in your office renovation process.
If you want to upgrade your office space, why not add some plants or artwork?
At RJT Construction, we understand how important making the right impression is for any business, and that's why we specialize in helping you create a professional yet homey atmosphere with the addition of plants or art pieces.
Our experienced team can develop a plan considering your taste, budget and financial objectives to ensure you get the perfect look for your workplace.
So don't hesitate- you'll be amazed at what a difference these simple additions can make!
Utilize natural light in your renovation budget by opening windows or adding mirrors for extra brightness.
For those in the Houston, Texas, area looking to add more brightness and life to their office spaces, RJT Construction can provide the perfect solution.
They offer office remodeling and renovation services, that can use natural light by opening windows or adding mirrors – creating a warmer, brighter atmosphere.
These improvements will bring increased productivity, comfort, and satisfaction to any workspace while paying homage to our existing resources!
Whether starting from scratch or renovating and updating an existing office, renovating can be an excellent opportunity for collaboration and creativity.
Creating a plan, selecting suitable materials and furniture, incorporating personal touches, and using color to create a successful design are essential.
With RJT Construction at your side, the process is made easy– their expert team of experts will help you bring all these elements together.
You'll be left with an eye-catching workspace that will encourage productivity and make any employee relaxed and comfortable in their environment.
Let RJT Construction turn your vision into a reality!