Ready to take the plunge into building a brand-new beauty spa and salon location?
If you're reading this, chances are you've already done your homework and secured an ideal space for your dream venture.
But that doesn't mean there isn't still some work left ahead of you – when it comes to new construction projects, it's important to do things right if you want a successful outcome.
That's why having decades of construction experience as salon and spa builders like RJT Construction is so priceless!
In this blog post, we'll provide all the tips and tricks from our experts here at RJT Construction on how YOU can ensure your salon and spa business achieves its grand opening goals!
Read on for everything from scheduling assistance to both budgeting advice.
Let us help transform your vision into reality!
Location, Location, Location – Choosing the best place for your Spa and Salon
Opening a spa and salon is a big milestone.
You've got your lotions, potions, and pretty decor all ready to go – but before you fling open your doors, you need to decide on a location.
There's a lot more to this decision than meets the eye.
For starters, you need to choose a location that's accessible for your customers.
You don't want them being late because they can't find a parking spot or because it's a pain to get there.
Of course, you also need to make sure that the area is suitable for your business. It should be a place where people want to relax and indulge.
Last but not least, don't forget about your competition.
You don't want to set up shop somewhere where three other beauty salons already exist.
But hey, if you have your heart set on a certain location and there are a few other salons nearby, maybe you can all pool your resources and have a street party – just bring the massage chairs!
Understanding the Salon and Spa Building Requirements
Okay, so let's talk about Houston's building requirements.
Yeah, I know, not exactly the most exciting topic, but trust me, it's important.
See, if you're planning on building anything, be it a new house or just a fancy shed, you're going to need permits and inspections.
It's not exactly a thrilling process, but it's important to make sure your project is safe and up to code.
Plus, if you try to skip a step, you'll end up paying for it later. Literally.
Trust me, I learned that one the hard way. But don't worry, it's not all bad.
You can always make jokes with the inspectors to lighten the mood.
Who knows?
Maybe they're dying for a laugh after dealing with all those serious builders.
Just don't try to bribe them with cookies.
Apparently, that's frowned upon.
Developing a Working Plan With Your Salon and Spa Builders
Ah, the joys of project management.
It can be a never-ending juggling act trying to keep all the moving pieces in line.
But fear not!
Creating a timeline is the superhero cape of project management.
Not only will it keep your project on track, but it will also save you from the wrath of the budget gods.
And who doesn't need a superhero on their side?
Plus, once you have your timeline set up, you'll have more time to kick back and enjoy a cold beverage.
Okay, maybe not, but you'll definitely have more time to focus on other important aspects of the project.
So, grab your cape and let's get to work!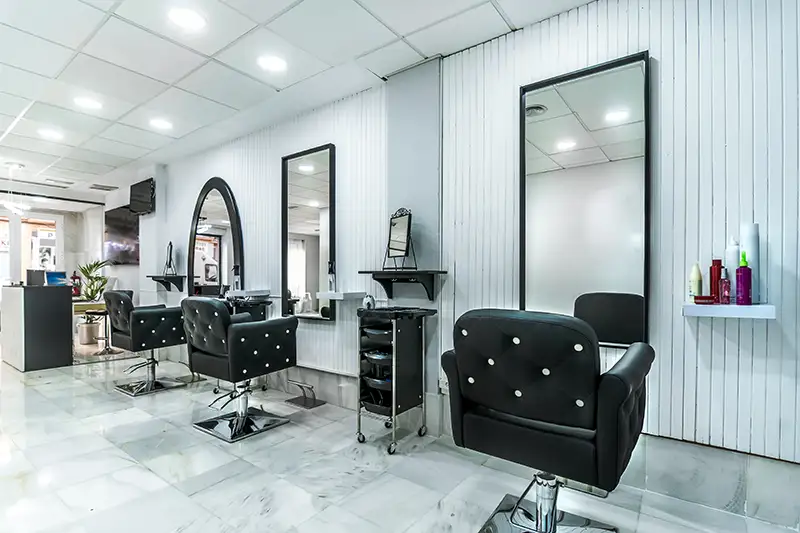 Design Ideas and Features
When it comes to designing your business space, figuring out what amenities to provide for your clients can be tough.
You want to give them everything and the kitchen sink (literally, a kitchen sink might be a nice touch), but you're also working with a budget.
So, let's get practical. What will really make your clients happy?
A comfy waiting area?
Mood lighting?
Unlimited free snacks?
And let's not forget about practical features like ample parking and easy accessibility.
Just remember, don't offer what you can't deliver.
You don't want to promise your clients a five-star experience and end up giving them a one-star disappointment.
Hiring an Experienced Salon and Spa Builders – Finding someone who knows the area & can help you build your vision
Hiring an experienced contractor is like finding a needle in a haystack, but with a little bit of patience and research, it's totally doable.
You want someone who knows the ins and outs of the area, but also someone who can get behind your vision.
You don't want to be stuck with a contractor who just nods their head and does whatever you say, but you also don't want someone who takes your ideas and runs with them in a completely different direction.
Finding that perfect balance is key.
And don't even get me started on the horror stories of contractors who go MIA mid-project.
Do your due diligence, ask for references, and maybe even throw in a joke or two to see if they have a good sense of humor.
It might not seem like a big deal, but laughing together can make a world of difference when you're in the midst of a construction project.
Shopping for Quality Materials- Investing in quality materials to ensure durability and longevity
We've all been there – you finally find that perfect piece of clothing or furniture and then, before you know it, it's falling apart or fading away.
Trust me, I've lost one too many favorite pairs of jeans to this cycle.
That's why I'm all about investing in quality materials.
Sure, it might be a little more expensive upfront, but it pays off in the long run.
Plus, who doesn't love the feeling of buying something that they know will last?
And honestly, when it comes to clothes and furniture, isn't durability and longevity the ultimate sign of style?
So next time you're out shopping, think twice before going for the cheapest option.
Your wallet – and your closet/home – will thank you.
Types of Salons RJT Construction Can Help You Build
Hair Salons
Beauty Salon
Salon Projects
Modern Aesthetics
Massage Studios
Nail Salons
Day Spa
Skin Care Salon
Spas
General Construction
Manicures
Renovation and Renovation Services
In Conclusion
When you are planning a spa and salon build, there are so many factors to consider.
From the location, to understanding building requirements, to setting up a timeline and budget – these are all key aspects of the building process.
Then it's time to start thinking about design features and hiring an experienced contractor for the job.
And don't forget shopping for quality materials that will last in the long run!
There is no doubt that RJT Construction has decades of experience as general contractors serving the Houston area while providing excellent customer service and quality craftsmanship.
We have your project's best interests in mind so you can be confident that your spa and salon build will exceed all expectations.
Finally, sit back and enjoy!
A few months or even years from now, you'll get to reap the rewards by seeing happy clients flood through your door!